Welcome! We are so glad you are here! My name is Kori and I cannot wait to connect with you and share all the wonderful things about this amazing fiber in our lives. I have a huge love for cats, tea, dinosaurs, and all things wool. I knit for 7 years before deciding to learn to spin and it was just a quick landslide into Fossil Fibers from there.
We reside in Northern Michigan in beautiful wooded countryside that will inspire many colors that come to you. Do note that we are also a Cat-friendly home and our products are currently made where we live. Your safety is important to us and we know allergies can be very serious! Thank you for coming along on this woolly journey!
- Our Stance -
Fossil Fibers wants it made clear that we feel strongly that racism, white supremacy, violence, hate speech, and any position that would remove the basic human right to live, pursue happiness, safety, and control over one's own body has no home in our space or practices. If this offends you, our space is not for you.
We also maintain a commitment to keeping our operations as eco-friendly as possible. Our packaging will be recycled, reused, or compostable. We have practices reducing water use where we can. Our waste water from cleaning fleece is used in our gardens and we are looking into composting our waste wools. Caring for the earth is a responsibility we take seriously.
- Wool Straight from the Farm -
Some of our products are hand-processed with raw fleece straight from the farm. Sheep are living beings and have terrible table manners, so you might dig up food, bedding, or plant matter in your items. These items will have notices on them for being processed lovingly by hand. We do our absolute best to create a wool product with as few short fibers and vegetation as possible to provide you a lovely time working with our fiber. There is a small upcharge on our Farm fibers as well so that we may continue to pay farmers a fair price for the wool they spend all year, every year growing for us to enjoy! Supporting small farms and rare breeds is a big deal to us here. Being able to offer gorgeous breed specific wool takes many hours of preparation for even a single raw fleece. It is a labor of love and I couldn't be more proud to offer these to you!
Our hope is to maintain a line of fibers from rare or lesser-known sheep to aid conservation efforts. We want these wools to continue to be something you can see and feel instead of becoming fossils themselves. We hope these wools are as exciting to you as they are to us!
- Return Policy and Shipping Overage -
We work really hard to ensure you are happy with your order, but we know things arise. We will accept returns so long as we receive contact about any errors within 14 days of delivery and items shipped back at buyer's expense within 30 days of delivery. There is a 5% restocking fee to cover our nonrefundable expenses in transactions. We are unable to cancel orders or accept returns on any custom spun orders. If the item arrives damaged upon return, the buyer is responsible for any loss in value. We will do our best at providing a satisfying experience shopping with our small business. Currently, we are small enough to be able to handle automatically refunding excessive shipping overages at time of shipping. Your interest and business with us has our most sincere thanks for the support!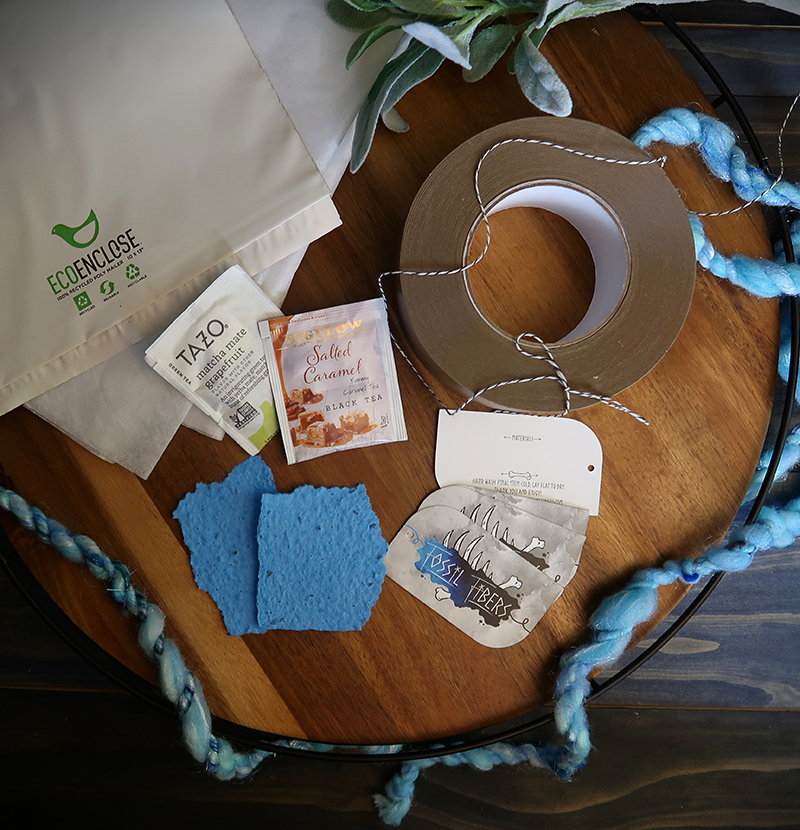 -Commitment to Green Packaging-

All of our packaging is chosen with intent. Packaging accounts for the vast majority of the waste the business creates from operations. We don't send business cards or wasteful items that might end up in the trash with orders. Your precious fluffs will come with the following;

-White Tissue Paper-
We chose this instead of plastic bags to reduce waste. White tissue paper leaves less of a chance for tissue dye transfers to your items and it biodegrades in one month.

-Black and White Cotton Twine-
There are tons of reuse options with these short lengths! They make great hank ties for yarn or can be used for your own goods or crafts. They would make wonderful textural inserts for art yarns or weaving as well! Being cotton, this will also biodegrade.

-Kraft Tape-
While the element of synthetic rubber in the adhesive will not biodegrade, most of this tape will. We use as little as possible in wrapping each item to reduce waste.

-100% Recycled Polymailer-
We did our best with these and are a little stuck with them because they tend to be the lowest cost shipping item and protect the fiber from the elements in travel. I definitely like the recycled part and that there is a secondary strip on them so if opened correctly, they can be used a second time for your own mailing needs.

-Labels and Business Cards-
Our labels are made from cardstock that is mostly biodegradable minus the coating on the paper that gives it durability. The paper is sourced from sustainable resources.

-Seed Paper Thank You Notes-
We really want to thank you for your business and hand written notes feel great to send and I hope to receive, too. We wanted them to be useful and not just garbage. Seed Paper was a great option as it will biodegrade and contains pollinator-friendly North American wildflowers from most growing zones. Every seed inside is USDA approved. These only go to our North American customers while International receive plain paper notes. Growing instructions and seed list is on our Planting page!

-Tea-
We really wanted to do the tea packets as a small indulgent gift to enjoy. I am a tea nut, so this was important to us to include as a sweet treat.

The other packaging we have is for our art prints. The cardboard inserts are all reused from boxes we receive and cut to size. The plastic sleeve for print safety is 100% recycled and so is the rigid Kraft mailer.